by
Uzay Bulut
•
April 8th
"Erdoğan has cynically referred to these students as 'terrorists,' vowed to expel them from Boğaziçi University, and to deny them the right to study at any other university. We have heard this kind of verbal attack from Erdoğan before and it was followed by the detention of thousands of academics, journalists, artists, and human rights advocates." — Open Letter signed by over 1,800 renowned academics from around the world, including Nobel and Pulitzer Prize laureates.

Ankara does nothing to prevent ISIS from selling Yazidi women and children in Turkey; allows unspecified numbers of people to use Turkish territory as a point of entrance into Syria and Iraq to join ISIS or other jihadist groups; hosts and aids Hamas, a terrorist organization that proudly targets civilians and vows to obliterate Israel; and enables jihadi terrorism through the oil trade.

Turkey, a NATO ally that considers itself a worthy candidate for EU membership, warmly welcomes and assists terrorists who commit genocidal crimes against humanity, yet persecutes non-violent academics and journalists whose opinions differ from those propagated by the regime.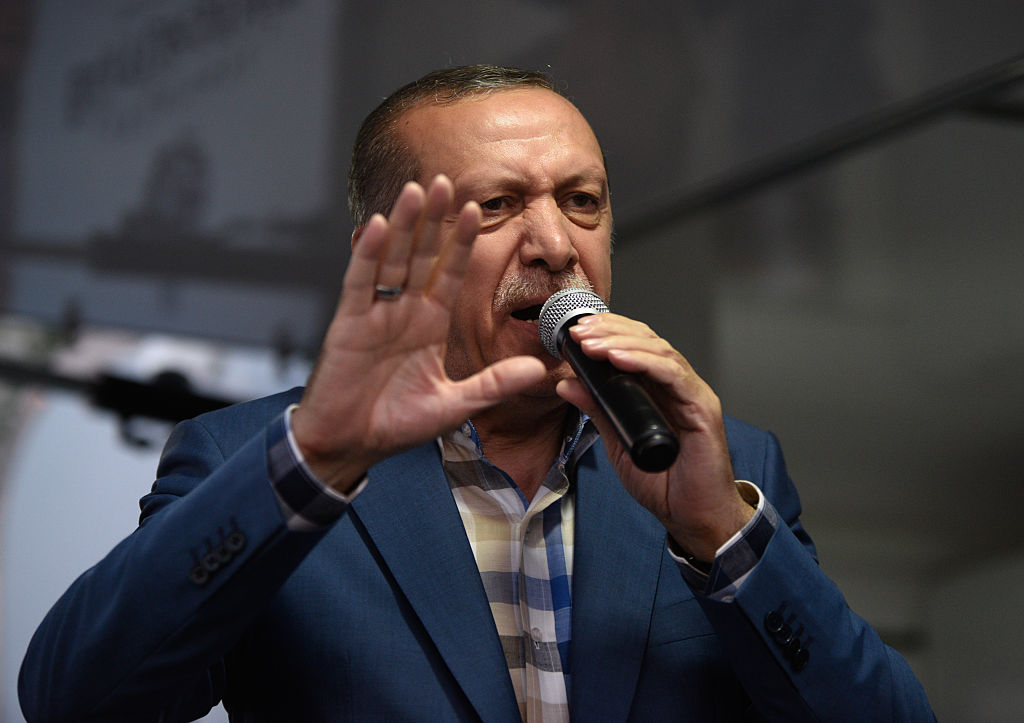 Turkish President Recep Tayyip Erdogan recently accused members of the media of nurturing terrorism, and had anti-war students arrested for spreading "terrorist" propaganda. (Photo by Defne Karadeniz/Getty Images)
On March 19, a group of students at Istanbul's Boğaziçi University, Turkey's leading institute of higher education, demonstrated against an event on campus. The event against which they were demonstrating, organized by the Society for Islamic Research, was to champion the Turkish soldiers who had participated in the Afrin invasion. While the pro-government students distributed Turkish delight sweets, the counter-demonstrators unfolded a banner reading: "Invasions and massacres are not [to be celebrated] with delights."
Turkish President Recep Tayyip Erdogan responded by having the anti-war students arrested for spreading "terrorist" propaganda. On April 3, a Turkish court jailed nine of them and freed the other six, pending their trial.